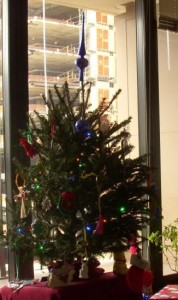 It is that time of year, Christmas Time, when we bring the outdoors indoors!
There are many different ways we do this, but mainly it is through Christmas Trees.  Yes people have small trees, like ficus, year round in their homes but only at Christmas do we drag a big huge tree into our home and decorate it!  Although some people buy live trees with the roots, the majority of trees are cut and although cutting eventually causes the tree to die they still need to be taken care of so they will last throughout the season.
Your tree should get fresh cut before going into an adequate sized stand.  Use a stand that can hold the tree without removing any bark or whittling the tree down.  The bark actually helps to soak up the water so removing it will be harmful to the tree.
Also the tree and all evergreens, including wreaths, should be kept in a cool area away from direct sunlight.  Wreaths and evergreens should be misted daily in order to keep them from drying out.
If you follow these easy suggestions your holiday decorations should last well into the New Year!