Oh no the Groundhog saw his shadow and so we will have 6 more weeks of winter.  Which this year is 6 weeks too many!  As we all are too aware  this has been a very hard winter.  So many storms,  the Polar Vortex and now it seems it won't end until mid-March.  By the way, Winter technically ends on March 20th, the first day of Spring.
This winter we seem to be stuck in Wednesday storm mode, which is not all that unusual.  Once a weather pattern sets up in the Pacific it tends to reoccur over time.  So here we are stuck with rain, sleet, and snow on a regular basis.
All we can do is grin and bear it!  But at least this year we can sit  back and enjoy the  Winter Games from Sochi!  Also we can all continue working on our plans for our Spring and Summer Gardens.  Whether you enjoy surfing the Web or perusing catalogues these cold stormy days are  a great time to take stock of what you have and what you want!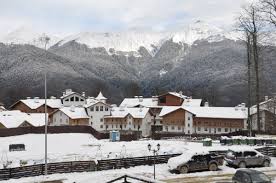 So enjoy the snow!  Enjoy the Games!  Only a little more winter left to go!