November and December are interesting months for landscaping here on the Peninsula.  Some days are warm and sunny, others are cold and windy and then there are the days with precipitation.  I say precipitation because it could be rain, snow or ice!  This is why it is good to plan your fall projects with room to adjust with the weather.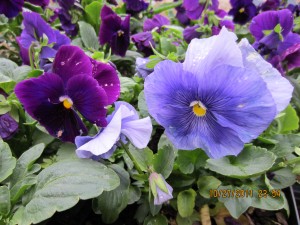 When we are fortunate enough to have sunny  days go out and rake those leaves!  As I discussed last month it is very important to get the leaves off your lawn. And if you use a professional to do the work it is not a bad idea to walk around your property to look for any damaged trees and shrubs.  That way you can prune back any branches that need it or alert your landscape crew to do so.
On those days that are not as conducive to being outside, now is a good time to take inventory of your gardening equipment.   If you are a very orderly person this should only take a few minutes.  But if you are like me it may take an afternoon to sort through the various items and clean them up for winter storage. Also it gives you an opportunity to see what needs to be replaced.   And if you are not as orderly as some, this might be a good time to consider getting some peg board to hang your tools or some other system so when spring comes next year you will be ready to go!
So even though it seems like landscaping time is on hold over the winter it really is not!  Late Fall and Winter are the perfect times to plan, prepare and possibly purchase!